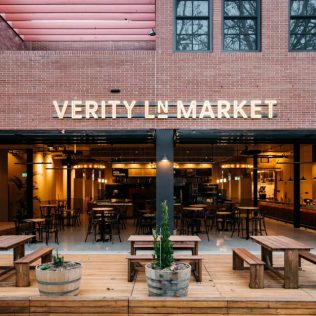 PIZZA  ARTIGIANA
ANTIPASTI
MIXED OLIVES $8
Marinated Sicilian, Ligurian, Queen Green, Black Mammoth Olives.
PIZZA BIANCA $10
Pizza Bread with Garlic Oil, Rosemary & Sea Salt
PIZZAS
MARGHERITA $14 add Buffalo Mozzarella $3
Tomato base with Fior di Latte Fresh Mozzarella and Basil
QUATTRO FORMAGGI $15 add Salami $2
Cheese base with Fresh Mozzarella, Provolone, Gorgonzola and shaved Parmesan
NDUJA & CHEESE $17
Tomato base with Nduja hot salami and Fior di Latte Fresh Mozzarella
SALAME & RICOTTA $17
Fior Di Latte Mozzarella Base with Ricotta and Cacciatorino Salami
FUNGHI $16
Tomato base with Fresh and Wild Sautéed Mushrooms, Oregano and Fior di latte Mozzarella
ORTOLANA $16
Fior di Latte Fresh Mozzarella base with Grilled Eggplant, Roasted Red Peppers, Mushroom and fresh Basil
TRE CARNI $21
 Tomato base with Porchetta, Nduja, Salami and Fior di Latte Fresh Mozzarella
PROSCIUTTO & ROCKET $20
Tomato sauce base topped with thinly sliced Prosciutto, Rocket, shaved Parmesan and Balsamic Vinegar.
CONTADINA  $21
Fior di Latte fresh Mozzarella base with oven baked Potato, Truffle and Mushroom paste, topped with thinly Sliced Prosciutto di Parma
SALAD
ROCKET AND PARMESAN $8 (Single Serve)
Rocket lettuce with Shaved Parmesan dressed with Virgin Olive oil and Balsamic Vinegar (SINGLE SERVE)
DESSERT
TIRAMISU $12
The Classic Italian Dessert, with sponge fingers dipped in coffee, covered with a Mascarpone cream and Dusted with Cocoa
PASTA  ARTIGIANA
STUZZICHINI (Snacks)
Garlic Bread $6 / 2 Slices
Crusty Italian bread with house made Garlic Butter topped with freshly grated Parmesan cheese.
Arancini $10 / 3 Pieces
Arborio rice Tomato Risotto with a Fior di Latte centre, coated with golden crumbs.
Fiori di Zucca Fritti $8 / 6 pieces
Pumpkin flowers coated in a light batter and deep fried with Gorgonzola Dip.
Polpettine (Italian Meat Balls) $10 / 6 pieces
Hand balled Beef with Garlic, Oregano, Parsley and Ricotta with sauce.
SPECIALS
Cannelloni $20 SOLD OUT
Hand rolled Cannelloni made with delicate Crepes & filled with Spinach and Ricotta in a rich Tomato Sauce.
Lasagne Al Ragu $20
4 layers of 24 hour slow cooked pulled Beef Brisket and Pork Neck Ragu, with Besciamella and Egg Pasta.
PASTA
Penne all'Arrabiata $10
Tomato Passata infused with Garlic, Herbs and fresh Chilli.
Pappardelle al Ragu $21
Fresh house made Egg Pappardelle with Veal And Pork slowly cooked in a Tomato Passata with Red Wine and Porcini.
Penne al Pesto di Basilico $16
Basil, Pinenuts, Garlic and Parmesan blended into EVO oil.
Bucatini all' Amatriciana $20
House made Bucatini pasta, with Pancetta, Garlic, Pepper, Chilli and Pecorino slow cooked in a tomato passata.
Gnocchi al Cacio e Pepe $15
Truffle Pecorino slowly melted into a sauce with freshly ground Black Pepper.
Ravioli Al Porcino $18
Porcini, Truffle & Buffalo Ricotta filled Ravioli in a Mushroom Bisque garnished with crushed Hazelnuts.
SALAD
Garden Salad $12
Rocket, Cherry Tomato and Ricotta Salad with Shaved Parmesan and Balsamic Vinegar Dressing.